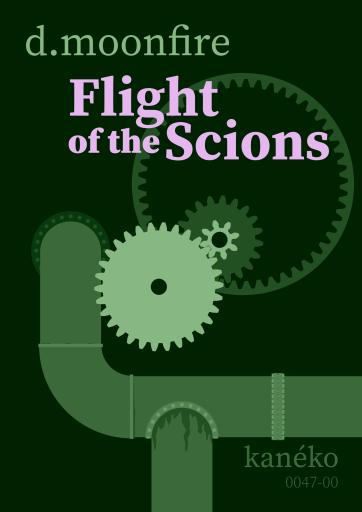 Description
Can she survive without magic?
Kanéko's childhood fantasies died the day the letter came to confirm she had no ability to use magic. She would never hear the whispers of her mother's clan spirit. Nor would she be able to follow in her father's footsteps as a mage-knight of Kormar.
Soon she found a new purpose: to prove to her father she wasn't a delicate flower that required protection. Without magic, she latched onto the new world of mechanical devices and engineering. But, her self-taught experiments went awry and her father sent her away in a fit of fury. Two others would join her on a trip across the country, a dog girl with a short temper and a boy with an unnatural presence.
When she didn't think it could get any worse, a wanted poster sets off a frantic race home for safety. As ancient and modern forces fought to claim her, she and her friends would test the abilities their parents gave them: knowledge, loyalty, and drive.
This novel contains scenes where the primary character and others experience abandonment, birth control, drugs, emotional abuse, kidnapping, mental assault, racism, sexual intimacy, verbal abuse, and violence. There are also scenes where secondary characters experience named character death, physical assault, and profanity. There are off-page references to eugenics and slavery. There is no sexual assault.
Chapters (v1.0.8)
04 - Waryoni Garèo
05 - Lesson Plans
06 - Germudrir Mill
07 - An Ally
08 - Camping Partners
09 - Archery Lessons
10 - Boar Hunt Inn
11 - Stonewait's Gallery
12 - Virsian
13 - The High Life
14 - Changing Plans
15 - Reward Money
16 - The River
17 - Directions
18 - Nobody
19 - Lessons Learned
20 - Travel Partners
21 - Landslide
22 - Flight
23 - Shelter
24 - Midnight
25 - Fight or Flight
26 - Revelations
27 - Waking Nightmares
28 - Life's Lessons
29 - Change of Clothes
30 - Blindspot
31 - Cabin Fever
32 - Detour
33 - New Plans
34 - Exhaustion
35 - Setting Sail
36 - Being Alpha
37 - Distant Threats
38 - Enthusiasm
39 - Regret
40 - Gallop
41 - The Germudrir Pack
42 - Sinmak's Fate
43 - The Fall of Lurkuklan
44 - Combat Leadership
45 - Improvised Plans
46 - Celebrations
Digital
Print
Fedran
Links
Development